Nieuw LASERNEEDLE acupunctuur
Een evolutie in de klassieke acupunctuur met naalden is de pijnloze laser-acupunctuur, die kan worden gebruikt bij alle indicaties van acupunctuur.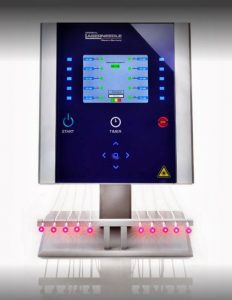 Triggerpoints kunnen ook worden gestimuleerd door bestraling met LASERNEEDLE.
Voordelen van laser acupunctuur in vergelijking met acupunctuur met naalden.
– Niet-invasieve behandeling, d.w.z. geen doorprikken van de huid, geen vorming van hematomen, geen mogelijke vasculaire of zenuwbeschadiging
– Geen risico voor patiënten met verminderde bloedstolling
– Geen risico op bacteriële of virale infecties
– Absoluut pijnloos, daarom geschikt voor gevoelige patiënten en kinderen.
Please follow and like us:
YOU MIGHT ALSO LIKE THESE